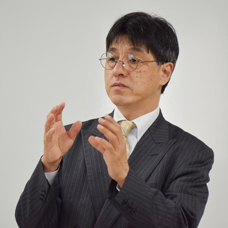 Toshiya Nakamura, Ph.D.
Message from the Executive Director
It is a great pleasure to welcome you to the Global Media Research Center (GMRC). As the first of its kind in Japan, the Center was launched in April 2015 by the Media Professional Studies Program in the Graduate School of Languages and Cultures at Nagoya University. The Center was transferred to the Graduate School of Informatics in 2017.
Since the Media Professional Studies Program was founded in 2003, we have not only undertaken research aimed at exploring theories of media and communication and media practice, but also provided educational courses at the Master and Doctoral level in close cooperation with newspaper, broadcasting and other media-related companies in the central Japan region. We have aimed at developing graduates with a strong sense of social ethics, profound knowledge and practical skills who can perform a leading role at the forefront of today's highly sophisticated information society. Nearly one hundred and fifty of our graduates are now successfully playing an active part in journalism, broadcasting, publishing, advertising and public relations. We would like to take this opportunity to thank the broader community for the warm support it has shown to our Program.
The Global Media Research Center is a new venture that builds on our achievements since the foundation of the Media Professional Studies Program fourteen years ago. During this time, the emergence of new digital media such as social media has brought about enormous changes worldwide. As the global distribution of information has dramatically grown due to the developments of information and communication technology, it is essential for all the actors including states, private enterprises, NPOs, NGOs and individual citizens to be able to exert their influence in the world, and in order to do so they have got to possess the necessary skills to effectively communicate their messages and positions not only domestically but internationally. In response to the rapidly changing environment of traditional and new media and international society, the Center aims to provide a major platform for media and communication studies and to undertake interdisciplinary research aimed at exploring global communication with an emphasis on international images. We shall be hosting a number of events including International Symposia, International Public Lectures and Professional Lectures that feature prominent international and local researchers and practitioners. The inaugural Symposium 'Global society and Japan: 70 years after World War II and beyond' was successfully held in 2016 and the edited volume "70 years after World War II and beyond" was published in August 2016 by Ichigeisha Publishing. Throughout our work, we aim to be recognized as a core research platform in Asia. We welcome your cooperation, support and any suggestions you may have for us.
Toshiya Nakamura, Ph.D.
Executive Director of the Global Media Research Center
Overview of the Center
Name Global Media Research Center
Affiliation Graduate School of Informatics, Nagoya University
Establishment April 2015
Parent Organization Media Professional Studies Program, Graduate School of Languages and Cultures
Address Global Media Research Centre Office, Room 301, Liberal Arts and Sciences Building (North Wing), Nagoya University, Furo-cho, Chikusa-ku, Nagoya-shi, 464-8601, Japan.
Email gmrc [at] i.nagoya-u.ac.jp

Mission
Against the backdrop of the conflict between the rapid global expansion of digital media and the decline of traditional media such as newspapers and television, the international flow of information continues to increase dramatically. Our aim is to conduct practical and advanced media and communication research in order to understand the present circumstances of global communication, including such questions as how information is produced, distributed and consumed within such a dynamic global environment and how these processes relate to the formation of the images of actors including states, private enterprises and NPOs within international society. Moreover, by making the results of our research fully available to the teaching activities of this university and also to the wider regional community, we aim to promote effective interactions between research and education.
Staff
Core Faculty
Executive Director Toshiya Nakamura (Professor)
Coordinator Nobuhiro Ihara (Associate Professor)

Concurrent Faculty
Yamamoto Tatsuhiro (Professor, Global Media and Communication Unit)
Minoru Karasawa (Professor, Department of Cognitive and Psychological Sciences)
Minao Kukita (Associate Professor, Department of Social Informatics)
Mamoru Endo (Associate Professor, Department of Social Informatics)
Akiko Ogawa (Associate Professor, Global Media and Communication Unit)
Kazutoshi Sasahara (Lecturer, Department of Complex Systems Science)
Akifumi Goto (Associate Professor, Information Technology Center)
Events
In order to achieve an effective interaction between research and education the Center plans to regularly host the following events.
International Public Lectures
Professional Lectures
Media Autumn School
Information about these events will be posted in due course on the "News" section of our Home page and on the "Event Calendar". Please check these for details.
Global Media Research Center Pamphlet
The latest center pamphlet is available below.